2019 Buffalo County Natural Resources Intern
Lakin Hoepner, from Eau Claire, Wisconsin is currently attending University of Wisconsin – Stevens Point majoring in Hydrology. After graduation she plans to work on stream restoration and runoff management to keep water resources viable.  The Natural Resources Internship gave Larkin opportunities to work with and explore many areas of natural resource conservation in Buffalo County.  Read Larkin's Natural Resources Internship Final Report for more information.
2018 Buffalo County Conservation Intern
2017 Buffalo County Conservation Intern
Riley
Hall is from Luxemburg, Wi originally and is currently attending UW-Stevens Point.  Riley had a varied and great experience this summer with responsibilities ranging from geese banding to bear baiting and of course time on the river.  He had several experiences working with endangered resources on bluff prairies and helping with the massasauga rattlesnake count.
Read Riley's complete report at: Riley Hall Final Report
Sponsors of the 2017 Conservation Intern Include:
Alma Rod and Gun Club
Bee Forest Products
Dairyland Power Cooperative
Mondovi Conservation Club
Fountain City Rod and Gun Club
Clear Waters Chapter – Trout Unlimited
Madison Fishing Expo
Buffalo County Farm Bureau
John Balk
Modena Farms
Steve Stamm
Waumandee Rod and Gun Club
Bushy's Meat Market and Buff's Bake Shop
Mark Boesch
Melitta Schaffner
Stuart Hagen
Swan Watch
Fountain City Lions Club
Greshik Farms
Gunderson's Meats – Jon Seipel
Lower Chippewa River Alliance, Inc
Post D Excavating – Doug Sokup
Reglin Excavating, LLC
Ron Hulburt
Rutting Ridge Outfitters – Jarrad Fluekiger
Ryan's Sport Shop
Sendelbach Construction, Inc
Todd Mau
Weiss Realty
Al Kube
Once again Buffalo County had an excellent intern during the summer of 2016.  Tony Opatz worked on many projects throughout the summer and had contact with conservation clubs, wildlife enthusiats and other landowners.  A special thanks this year to the C. D. Besadney Conservation Grant Program for awarding funding to help pay for the 2016 Conservation Intern.  this funding was targeted to Tony's work on Dry Bluff Prairies.  Read more about Tony's experience here:  opatz-final-report-2016
2015 Buffalo County Conservation Interns
Buffalo County was 
fortunate to have two excellent summer interns to work on conservation projects.  Our "traditional" intern was Jarod Schamaun originally from Alma.  Jarod is attending UW-River Falls and intends on seeking a field in conservation upon graduation.  Jarod was involved in wildlife habitat enhancement, stream monitoring, as well as many other projects.  See his complete report here: Schamaun final report 2015.  We all expect great things from Jarod in the future.

A special grant from the Wisconsin Environmental Education Board (WEEB) allowed us to hire a second intern in 2015 to primarily work on Dry Bluff Prairie restoration and education.  Tristin Christopher, originally from Modena and now attending UW-Eau Claire was chosen to fill this position.  She is majoring in Environmental Public Health. Tristin was involved in dry bluff prairie restoration, native plant and animal identification, trail development, and developed a spreadsheet of Buffalo County residents interested in dry bluff prairie restoration.  See her final report here:  Christopher Final Report 2015.  Tristin did a great job leading this project and we now have close to 50 Buffalo County landowners interested in restoring their dry bluff prairies.
**************************************************************************
Breana Meyer, 2014 Buffalo County Conservation Intern
Breana did a great job this year for Buffalo County.  Her major projects were stream monitoring, trout stream work, CRP enrollment, along with numerous other projects.  See her complete report here 2014 Final Report.  BEST OF LUCK IN THE FUTURE BREANA!!
The Buffalo County Natural Resources Internship Program is an internship for a college student pursuing a degree in a natural resources field. For three months of the summer, the intern works 35-40 hours a week, accumulating approximately 500 hours of work. The program provides the intern hands on experience in a variety of conservation projects, while also providing the opportunity to work with county, state, and federal conservation agencies. The agencies the intern works with are: Buffalo County Land Conservation Department, Natural Resource Conservation Service, University of Wisconsin – Extension, and Wisconsin Department of Natural Resources. The intern receives a $5,000 scholarship, due to the generous contributions from conservation clubs, businesses and private individuals. A contributor list is found at the end of the report.
 Joe Krumrie, Buffalo County 2013 Conservation Intern
Joe Krumrie was the Buffalo County Conservation Intern for Buffalo County in 2013. Joe is originally from Mondovi, WI. Currently he is a senior at UW-Stevens Point majoring in Wildlife Ecology. Major projects for the summer included;   Massasauga Rattlesnake survey in the Tiffany Wildlife area, Bluff Prairie restoration, stream water monitoring, conservation planning and other projects as time allowed.
Joe was a great addition this summer. Good luck in the future.
 2013 Buffalo County Internship Final Report
2013 Scholarship Contributors
                   Alma Rod and Gun Club                                    Fountain City Rod and Gun Club
                   Bee Forest Products                                            Madison Fishing Expo
                   Brunkow Hardwood Corp.                                Mississippi Valley Chapter – Whitetails Unlimited
                   Buffalo County Farm Bureau                            Mondovi Conservation Club
                   Bushy's Meat Market                                          Stuart Hagen
                  Clearwater Chapter – Trout Unlimited            Swan Watch
                  Durand Sportsmen's Club                                   Waumandee Rod and Gun Club
                  Fountain City Lions Club
Aaron Olson, 2012 Buffalo County Conservation Intern
The NRCS, DNR, LCD, and UW-Extension were able to employ a conservation interim for a second year, funded by local donations .  Mr. Aaron Olson, UW-River Falls (home town is Independence) did an excellent job as the 2012 summer intern.   Click on the link below to read Aaron's intern report and see the work he completed.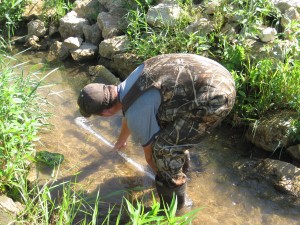 2012 Scholarship Contributors:  Thank you to all of our sponsors!
Alma Rod and Gun Club, Bee Forest Products, Brunkow Hardwoods, Buffalo County Farm Bureau, Bushy's Meat Market, Dairyland Power Cooperative, Durand Sportsman's Club, Elk Rod and Gun Club, Fountain City Lions Club, Fountain City Rod and Gun Club, Greshik Farms, Stuart Hagen, Madison Fishing Expo, Mark and Cherie Noll, Oakdale Ridge Farms, Stream Monitoring Grant, Swan Watch, Trout Unlimited-Clearwater Chapter, Waumandee Rod and Gun Club, Whitetails Unlimited-Mississippi Valley Chapter  Aaron Olson Final Report

Because of great local support, this internship will be available in 2013. Check back to this website to find out more information as summer approaches.