11th Annual Hop Seminar

–

Save the Date! Details coming soon
Saturday, February 29, 2020
New Glarus Brewing Company
New Glarus, WI
---
10th Annual Hop Seminar – presentations listed by speakers names
Saturday, February 16, 2019
Hillsboro Brewing Company
815 Water Street, Hillsboro, WI
Keynote Speaker
Neil Reid, Ph.D, Professor of Geography and Planning, University of Toledo. "Impact of the Craft Beer Revolution of the American Hops Industry"
Since 2014, Professor Reid has been researching the growth of the craft brewing industry in the United States and its potential role in helping to revitalize neighborhood economies. To date he has published a dozen journal articles and book chapters, delivered lectures and presentations, has been quoted in media outlets regarding the economic geography of craft brewing. Professor Reid also writes a blog about the beer industry (www.thebeerprofessor.com).  presentation: CraftBeerHopsHillsboroReid
Speakers and Topics
Michelle Marks, UW-Madison, Plant Pathologist; Dr. Amanda Gevens, UW-Extension/UW-Madison Plant Pathology   "Hop Disease: What we saw in 2018. What to Watch for in 2019" presentation: Wisconsin Hop Diseases & Their Management
Dr. Chris Baxter, UW-Extension/UW-Platteville   "Nitrogen Fertilization and Timing, Years of Data"  presentation:  Nitrogen Fertilization and Timing, Years of Data_2019 Winter Hops Seminar
Joshua Havil, MN Wild Hop Breeding Program   "Hop Breeding, Branding and Patents"  presentation:  Havill_2019_HopBreeding_WI
Bryan Jenson, UW-Extension, IPM Coordinator " Insect Update" presentation:  Insect Pests Hop Conference
Dan Carey, Brewmaster, New Glarus Brewing Company "Hops & Wisconsin Craft Beer – Southern Viewpoint"  presentation:  2019 Wisconsin Hop Conference Presentation New Glarus
Bo Bélanger; Brew Master and Owner; South Shore Brewing; President – WI Brewers Guild "Hops & Wisconsin Craft Beer – Northern Viewpoint"  presentation:  Hops 02162018 South Shore
Hillsboro Brewing Company       "Our History and Our Beer"
*********************************************
2018 Summer Hop Summer Field Day
Friday, June 8, 2018   10:00 – 2:00
Register by June 1  see brochure:
*****************************************
9th Annual Hop Conference – February 24, 2018
Lazy Monk Brewery
97 West Madison Street
                                                 Eau Claire, WI  54702 
                                     
Guest Speaker – Dr. Val Peacock
Dr. Peacock graduated from the University of Wisconsin with a Ph.D. in Organic Chemistry in 1978. The next 3 years he spent as a Research Associate at Oregon State University studying Hop Flavor in beer, then worked in the soft drink and citrus beverage industries until 1989. From 1989 to 2008, he was the Manager of Hop Technology at Anheuser-Busch and published a number of research and other works on hops. In 2009, he founded the firm Hop Solutions Inc., which does consulting for brewing and hop-related enterprises.
Speakers and Topics
Dr. Val Peacock, Hop Solutions, Inc.  "Post Harvest Strategies to Maintain Excellent Quality Hops"
Michelle Marks, UW-Madison, Plant Pathologist "Hop Disease: What we saw in 2014 – 2017. What to Watch for in 2018"
Dr. Chris Baxter, UW-Extension/UW-Platteville "Fertilizer Management in Hops Update on 2016-17 Wisconsin Trials"
Dave Buss, Wisconsin Hop Exchange. "Value Added Research Grant Report on Post Harvest Hop Handling"
Dr. Amanda Gevens, UW-Extension/UW-Madison Plant Pathology; Bryon Jensen, UW-Extension IPM; Dr. Jed Calhoun, UW-Extension/UW-Madison Weed Science "Build Your Pest Management Plan for 2018" An opportunity to develop a disease management plan, a weed management plan, and an insect management plan for your hop farm.
Lazy Monk Brewery    "Our History and Our Beer"
************************************************************
8th Annual Hop Conference – Saturday, February 25, 2017
(Dr. Dani
el Vollmer,Zone Brewing Support, Brewing Raw Materials – Hop Specialist; Anheuser-Busch Inbev.  Guest Speaker)
9:00 am – 3:00 pm
Lettie Jensen Community Center – Amherst, WI
 Presentations:
Charlie Rohwer, UMN steps in hop breeding and describes the hop breeding program in Minnesota.
Carrie Laboski, and Chris Baxter, discussed preliminary hop fertility information as gathered in 2016.  This study is looking at verifying and modifying UW-Extension current hop fertility recommendations.  Hop Fertility 2017 seminar v4
Michelle Marks, Research Assistant on hop diseases discussed what she has found the last four growing seasons on Wisconsin hops.  8th Hop Seminar Feb 25 2017
Amanda Gevens discussed hop disease protection products and scheduling.  2017 IPM Hop Diseases in Wisconsin_AJG
****************************************************************************
2016 Wisconsin Summer Hop Field Day
Friday, July 8, 2016
Fine Bine Farms – Rosholt, WI
We have a great program and lineup of speakers this year.  Look at the following for more information  2016 hop summer field day
*******************************************************
7th Annual Hop Conference – Saturday, March 12, 2016
Pearl Street Brewery – La Crosse, WI
For Growers and Brewers
Presentations from 2016 conference:
Presentation by Dr. Jed Colquhoun, UW-Extension Weed Scientist   How hop herbicides work 3-16  Hop herbicides 3-16
Presentation by Michelle Marks, UW-Madison Plant Pathology 2016 Hop Disease Research Update
Presentation by Dr. Ruth Genger, UW-Madison Plant Pathology Clean hop stock March 12 2016 La Crosse meeting
Presentation by Dr. Amanda Gevens, UW-extension Plant Pathologist Considerations for disease control in Wisconsin hop production 2016  Dec 2015 Hops fungicides for WI 2015_Gevens MOA
Letter clarifting the difference between "harvesting" and "processing" of hops  (may want to keep a copy of this in your file) Dried Hops classification as RAC 1993 EPA
Presentation by Jaki Brophy, Hops USA 2016 UW Extension Hop Production for WI Craft Brew Industry – To Share
************************************************************
Collecting & Sending Samples for Hop Disease Testing
UW-Extension Plant Pathology
Directions for submitting samples to UW-Extension Plant Pathology are now available
 6th Annual Hop Conference – Saturday, March 7, 2015
Bloomer Brewery – Bloomer, WI
Focused for new growers
Presentations:
Hop Harvester PP-1    Hops-Harvester-Factsheet
Hops oasts PP    Hops-Oast-Factsheet1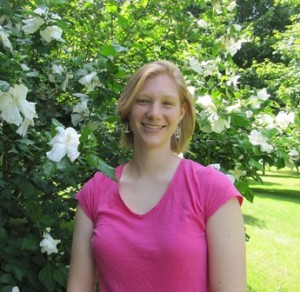 Michelle Marks Conducting Research on Wisconsin Hop Production
Michelle Marks is a native of Upstate New York.  She graduated from the State University of New York at Geneseo in May
2011 with a B.S. in biology.  After spending some time interning in Florida, and exploring her interests further, she took a job as an IPM Technician at the New York State Agricultural Experiment Station (NYSAES) located in Geneva, NY in May 2012.  Within the IPM department, Michelle was involved in several projects, including an orchard survey for invasive moth species, a Spotted-Wing Drosophila trapping/identification network, and updating organic production guides.  With her interest in the plant sciences piqued, she moved to Wisconsin in August 2013 to start as a Ph.D. student in plant pathology at UW-Madison in Dr. Amanda Gevens' lab.  Michelle is very excited for the opportunity to work on such a unique and challenging crop such as hops that involves collaborating with a relatively small community of passionate growers.  She hopes that by the end of her tenure here as a graduate student she is able to contribute useful and worthwhile information to this community.
Hop Sprayer Workshop – 2014
2 Locations – May 23rd and May 30th
Click for more information and to register
2014 Hop Seminar
March 1, 2014 at the Great Dane in Wausau.
 Keynote speaker will be Dr. Thomas Shellhammer, Oregon State University.  Professor and hop researcher, will discuss hop quality and maintaining hop quality from production through brewing.
2014 Conference brochure
             (Registration deadline is February 20, 2014)
Conference Presentations:
Dr. Thomas Shellhammer; Oregon State University Hop Chemist
Dr. Amanda Gevens; UW-extension Plant Pathologist
WDATCP  – Worker Protection Standard  Worker Protection Standard for Hop Producers
General Hop Information:
2014 insecticide revisions  Bryan Jensen, UW-Madison, IPM has researched the insecticides that are currently registered for use on hops in Wisconsin.
Wisconsin hop herbicide guide 2013  Daniel J. Heider, UW-Madison has researched the herbicides that are currently registered for use on hops in Wisconsin.  The list is very short.  There is an effort to get other herbicides registered, and we will update this list as they become available.
Michigan Hops Pub  This is a very good general publication that Michigan State put together a couple of years ago.  A few things are a little out of date, but the information is still good.
fertilizer guide  This hop fertilizer guide was written by Oregon State University.  UW-Wisconsin Soils Lab has developed recommendations, when samples are submitted.  The University of Wisconsin Soils Lab will now analyize soil samples and give recommendation for hops grown in wisconsin.  Soil tests forms are available at:  http://uwlab.soils.wisc.edu/farm-soil/
Sex and Powdery Mildew in the Hop Yard article 2-12  Excellent article by David Gent, USDA Hop Researcher.
Regional Powdery Mildew Management article 2-12  Northwest regional publication on powdery mildew management.
Spring Pruning PM DM Severity Gent et al  David Gent research article on the effectiveness of aggressive spring pruning on disease management.

2013 Hop Production Seminar
2013 Hop Production Seminar – Presentations
The seminar was very well attended with excellent presentations and great conversation.  Please see the presentations below.
Insects in the Hop Yard-2013   Bryan Jensen, UW-Extension IPM Specialist, discussed common insect problems in hops and recommendations for scouting and treating from other parts of the country.
Hop Insecticides Feburary 2013  A list of insecticides which are currently approved for use on hops in Wisconsin.
Wisconsin Hop Quality 101  Dr. Val Peacock, Hop Solutions, inc.  discussed general hop quality principals.
Wisconsin Hop Quality 102  Dr. Peacock, discussed evaluating hops proper drying, handling and processing of hops.
Hops 2013 Gevens Fung Updates  Dr. Amanda Gevens, UW-Extension Plant Pathology, discussed disease problems in hops.
Disease-free hops planting stock  Dr Ruth Genger, UW-Madison, Plant pathologist discussed the process necessary to develop a disease free hop propagation program for Wisconsin.
Hops 2013 Irrigation  Matt Stasiak, Peninsula Research Station Superintendent, discussed irrigation options for hop yards.
If you're interested in growing hops and barley make plans to attend the 4th annual seminar on hop production on Saturday, March 2, 2013 hosted by the University of Wisconsin-Cooperative Extension.  The seminar will focus on hop production practices, with a special focus on hop quality. The workshop will be held at Moose Jaw Pizza and Brewing in Wisconsin Dells, WI.  Registration begins at 8:30 am, with the program starting promptly at 9:00 am.
Dr. Val Peacock has his Ph.D. in Organic Chemistry from the University of Wisconsin.  He has 35 years of experience in the Food and Beverage industry – including 20 years as the technical expert for Anheuser-Busch for all things hops.  Currently, he is an independent consultant working for various trade groups, Brewers and the Hop Quality Group.
Cost for the 1 day program is $40 per person and includes conference materials, meals, and breaks.  Registration is limited to the first 100 paid registrants.  For program information and registration form please click on the brochure information below.
2012 Hop and Barley Seminar Brochure
2012 hop and barley seminar brochure July draft
This year's program will focus more on Hop production.  We have excellent resource people coming from the University of Vermont and Oregon State University.  We will also have a tour to several hop yards including a harvesting demonstration.
2012 Program evaluation: Evaluation 2012